SPECIAL OFFER
SPECIAL OFFER 25% off ALL ORDERS OVER £100

Beat the rush and save with 25% off orders over £100 for a limited time
Privacy Policy
With the new GDPR regulations coming in to force on the 25/5/2018, we have updated our Privacy Policy. Please click
here
to see the updated Privacy & Security Information policy.
About Santa Suit Store


We are a family run business and we pride ourselves on great customer service and flexibility, if there's anything we can help you with please contact us. Whether you are an individual or organisation we will do our very best to assist you.
Please email nathalie@santasuitstore.co.uk with any queries and we will endeavour to reply in a timely manner.

Happy Santa Shopping!

The Santa Suit store team
NEW FOR 2018

We have some wonderful new Christmas costumes coming in 2018, over the coming months some wonderful new Santa Suits will be added to our range including luxurious suits and more general Father Christmas suits, plus some great new Santa accessories. Also coming this year will be some traditional Mrs Claus costumes and additions to our elf and nativity ranges.

Also we have changed our logo, hope you like it and we will be adding some advanced features to our site very soon.

Shopping with us you are supporting a small business so we assure you of our best attention.
Santa Suits and Christmas Costume Store
Fancy dress costumes for kids and Santa Outfits for professionals and parties. Established in 2001 we offer great prices, outstanding quality, friendly customer services and fast UK despatch.

We are happy to offer discounts for large group or corporate purchases just ask when placing your order.

Having the best Santa Suit can greatly enhance your event and we have a great range for all budgets, many of our customers use their Father Christmas suits year after year.


Kids Nativity Costumes

Choose from a wide selection of styles of nativity fancy dress costumes for kids, our range includes Mary outfits, Joseph outfits and the three wise men costumes, plus shepherd costumes and nativity animal costumes.

If you are a school or group looking to buy your Nativity outfits just ask us for a discount. We are happy to accept cheque payments from schools or registered charities.

The school nativity is one of the most important productions your pupils will put on and parents and grandparents look forward to it every year so really put on a performance to be proud of in nativity costumes that look great.
Elf Costumes
If your opening a Santa's Grotto this year it would not be complete without Santa's little helpers. Complete the festive scene with our Elf costumes for kids of Elf fancy dress for adults. We have a wide range of elf outfits not forgetting elf hats, elf shoes and elf ears.
Christmas Hats
We have a fantasic range of Christmas Hats suitable for many occassions, if you are looking to make your family Christmas lunch extra special why not select a special hat for your family and friends, or maybe you are just looking for a hat to weat to work over the festive period we have something for everyone, they'll keep you warm too! Also perfect for office parties and we even have a bah humbug Christmas hat for the work place scrooge.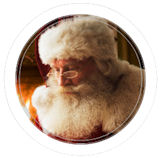 Santa Suit and Christmas Costume Range
At Santa Suit Shop we pride ourselves in our range of Santa Suit, accessories for professional Santa's, Elf and Santa helper costumes, Angel Costume and Nativity Cotsumes, year after year its one of our most popular lines so we know exactly what's needed to make Santa look great. You need more than just a suit, take care to choose a realistic Santa beard, bell, gloves, sack and many more important Christmas accessories.

Don't forget if you are a registered School you can order from us and pay by cheque if you've not got a credit card, remember to order early as our Nativity range sells fast in November. We're stocking a range of farm animal costume, wise men costumes, angels dresses, Mary & Joseph costumes to name but a few.

For office parties we stock a great fun range of Christmas hats to give your party real festive cheer.
Contact Santa Shop for Free Costume Advice
Our company was founded in 2001 so you can imagine the staggering range of Christmas fancy dress costumes that are available so our website is very varied. If you can't find what you are looking for then send us a message via OUR PHONE LINES ARE 10AM - 3PM Monday to Friday Sorry our phone line is not open at weekends. our
Contact Form
.
Best Shop for Santa Suits and Christmas Costumes
Santa Gloves R335W

Santa Wig Set S0785

Round Santa Glasses R426

Santa Belly R8385

£10.02


Realistic padding for underneath your Santa jacket
find out more

Santa Beard and Wig Set R2303

£39.40

BACK IN STOCK- POPULAR CHOICE- ORDER YOURS TO AVOID DISSAPOINTMENT

Beard with wired moustache and double elastic straps (beard and tash is combined)

Wig has one size fits all stretch base




find out more

Crimson Santa Suit Premier Range R23350

£80.92

BACK IN STOCK


This is a very popular choice for a reasonable price. The plush is very soft and a beautiful deep crimson red.

Includes

Hat
Satin-lined jacket with zipper front closure
Trousers with pockets
Belt
Boot tops

THE WAIST WILL STRETCH FROM 30 INCH - 50 INCH

find out more

Extra Large Crimson Santa Suit Premier Range R23351

£89.92

BACK IN STOCK

This is a very popular choice for a reasonable price. The plush is very soft and a beautiful deep crimson red.

Includes

Hat
Satin-lined jacket with zipper front closure
Trousers with pockets
Belt
Boot tops

THE WAIST WILL STRETCH FROM 30 INCH - 50 INCH

find out more

Velvet Santa Sack W1561

£7.80


Velvet Santa sack with white pom poms on cord tie

60cm x 100 cm
find out more